Tork helps Macquarie University build their reputation
This B2B Content Marketing article was produced for Tork Professional Hygiene and first appeared in Facility Management magazine.

The University sector is a competitive industry. Universities vie for students both locally and abroad and will continue to do so beyond COVID-19.
Macquarie University in Sydney has been operating for over 70 years. It boasts an enormous and impressive campus that's home to 40,000 students, 2,000 Uni staff and 7,000 commercial staff whose offices are also within the campus. The facilities include 92 buildings including a teaching hospital, sports and aquatic centre, new arts precinct, three early learning centres and will soon be opening a fourth.
The University prides itself on being progressive and influential, of being on top of innovation and exploration. Having 'first-class facilities' is part of the package and Jarryd Young, Macquarie Uni Asset Manager explains that, 'The washrooms are no different. We want to be better, different and improve presentation in every way.'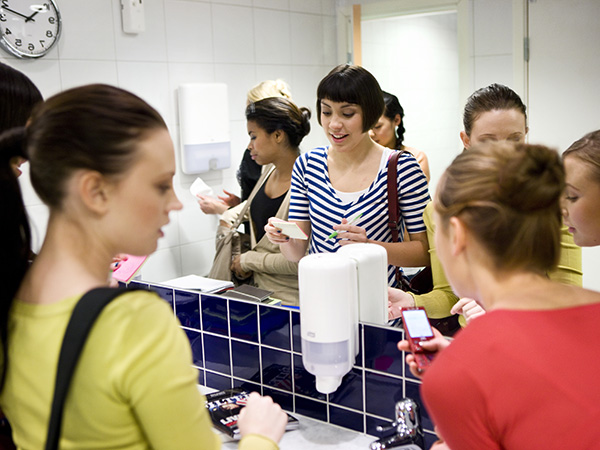 When Jarryd started at Macquarie in 2018, the Uni had a mismatch of washroom products. The dispensers were different in every building and it was really difficult for cleaners to manage refills across the whole campus. Many of the systems were old and uneconomical and ordering, storage and maintenance was inefficient.
Following an introduction to Tork at the ISSA Cleaning & Hygiene Expo, Jarryd conducted an initial trial with staff and students to test if Tork dispensers were the right fit. The successful trial resulted in 2,650 hand towel, toilet paper and soap dispensers being installed across the campus.
The implementation and roll-out was managed by Tork in close contact with the cleaners and Jarryd was impressed, 'It went brilliantly. Things can easily go wrong when you're taking dispensers off walls, but we had no issues at all. We were extremely happy with the process from start to finish. We couldn't fault them.' The Tork team went over and above to ensure every single dispenser was changed over with as little disruption to staff and students as possible
Now, almost a year since the changeover, Jarryd is in a position to review how the Tork products have performed. 'In terms of efficiency, a couple of percentage over a campus of this size can make a huge difference,' he explained. 'Some of the previous dispensers were being filled twice as often as the new Tork ones. Now the cleaners have more time and can concentrate on cleaning instead of topping-up dispensers.'
In terms of feedback, students can be a tough crowd. But Jarryd was pleasantly surprised, 'We've had no negative feedback and everyone loves the foam soap.'
Tork also provided specific products for certain areas in the University, such as Tork SmartOne T9 dispensers which were installed in accessible and ambulant toilets. These don't just fit within the standards, they are also easy to use and more efficient than conventional toilet paper roll holders.
Black Tork dispensers were specified for the Chancellery and the Graduation Hall to lift the presentation in the washrooms in these important areas. And in the childcare centres, half size hand towels in T3 dispensers were installed. These are perfect for little hands and also more economical.
In Universities, sustainability is a serious subject. Jarryd explained, 'Sustainability is a big part of the decision-making in everything we do. We looked at Tork across their whole supply chain and in relation to responsible forestry, packaging reduction and protecting human rights. Their goals are inline with ours and the documentation validates their claims.'
Many Tork products have been rigorously assessed through life cycle analysis and have published EPDs (Environmental Product Declarations).
With numerous new buildings being constructed on campus, even more Tork dispensers are being installed. They're sure to be there for years to come.